Mr. Mahesh Pasqual
Vice Chairman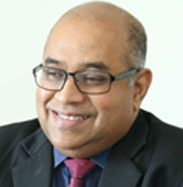 Mr. Mahesh Pasqual
(Vice Chairman)
Lion Mahesh Pasqual hails from the town of Matugama in the Kaluthara District of Sri Lanka. He is a proud product of Ananda College, Colombo, the leading Buddhist school in the island. He received his B.Sc Engineering degree from the University of Peradeniya. Subsequently he obtained conferment as Chartered Civil Engineer from the Institute of Engineers, Sri Lanka. He is the Chairman/ Managing Director of Isuru Engineering (Pte) Ltd, carrying out construction projects in Sri Lanka and the Republic of Maldives. He obtained a Masters Degree in Business Administration at University of Lincolnshire Humberside, United Kingdom.
He is an Executive Committee Member of the Sri Lanka Korea Economic Corporation Committee.  He was the Secretary of Major & Specialist Constructors Association of Sri Lanka and was awarded the honorary membership by the Alexander Hamilton Institute Inc, Hong Kong, in recognition of continuing efforts to acquire knowledge of Modern Management practice through executive Skills Program. The Association for Overseas Technical Scholarship (AOTS), Japan awarded him the prestigious scholarship for young entrepreneurs Leadership program.
The Government of Sri Lanka recognized him for strengthening the country's economy and providing employment opportunities through excellence in the construction trade, by awarding him the "Excellence in Service" Award. He was the Chairman of the Advisory Committee of Professional services of the Export Development Board.
He is also an active member of the Lions Clubs International and currently holds the position of Global Service Team Area Leader for Sri Lanka and Bangalore & Goa – India.