Mr. Dinesh Stephen Weerakkody
Immediate Past Chairman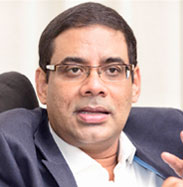 Mr. Dinesh Stephen Weerakkody
( Immediate Past Chairman)
Dinesh Stephen Weerakkody is the Chairman of the National Human Resource Development Council of Sri Lanka, International Chamber of Commerce Sri Lanka and Cornucopia Sri Lanka. He is also an Adviser to the Ministry of National Policies and Economic Affairs and a Director Hatton National Bank PLC . He holds several honorary Advisory roles in the government of Sri  Lanka.
He was the Chairman of the government appointed Committee to review the Banking Sector and Non Banking Financial Institution (NBFI) consolidation in 2015 and the Committee appointed to review the Budgetary Allocation for Education in the country . He is a former Chairman of Commercial Bank of Ceylon PLC the largest private sector bank in the country and the Employees' Trust Fund Board of Sri Lanka. He was also a Director of DFCC Bank (2003-2010) and an Adviser to The Prime Minister of Sri Lanka from 2002-2204.
He currently serves in the Board of several private sector companies, including GlaxoSmithKline Sri Lanka and the Subsidiary of British American Tobacco and Chairs / Member of the Audit Committee and the Remuneration Committee in several of those companies. He is a Council Member of the Employers Federation of Ceylon and the Institute of Directors of Sri Lanka. He is a member of the CIMA Asia Pacific Industry Advisory Body.
He is a Graduate in Business Administration from (United Kingdom), a Fellow Member of both the Chartered Institute of Management Accountants (United Kingdom) and the Certified Management Accountants (Sri Lanka), Professional Member of the Singapore Human Resource Institute and holds an MBA from the University of Leicester, United Kingdom. He was conferred an honorary membership by the Institute of Personnel Management of Sri Lanka for his contribution to HR. Mr. Weerakkody has received extensive Leadership, Economic and Finance, HR, and Management training in the UK, USA, France, Japan, Singapore and India.
He is the recipient of a Jaycees Ten Outstanding Young Persons Award in 1999 and an International Associations of Lions Clubs National Achievers Award in 2008 for the advancement of good governance in the public sector.
Mr Weerakkody has published widely on Economics, Banking and Finance, HR, Leadership, Management, International Relations and development issues. He is an author of six books and is a regular business speaker / commentator.