Ms. Indira Malwatte
COMMITTEE MEMBER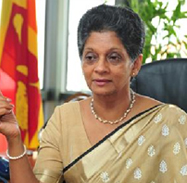 Ms. Indira Malwatte
(Committee Member)
PERSONAL SUMMARY
Ms. Indira Malwatte holding a Combined Degree in Economics and Geography from the University of Peradeniya Sri Lanka is the first woman Chairperson of the EDB.
She has 40 years of experience in serving the Government both internationally and locally as a Top Export Promotion Officer facilitating exports and hands on experience as a COO serving in the private sector and exporting a highly perishable product and entering new and demanding markets where the Company had the honour of being the first Agricultural entity in Sri Lanka to be Global GAP Certified. She has an in-depth knowledge on multi-sectors ranging from Industrial, Agricultural and Services in Supply Chain Management and International Marketing.
Ms. Indira Malwatte has served as the focal point on a number of World Bank, ITC, GIZ,CBI and JETRO export development projects. She has also served a number of Government and Private Sector Boards and undertaken a number of product development and export related consultancies.
She also serves as a Member of the Advisory Board to the Ministry of Primary Industries.