Ms. Manisha Charmain Rajanayake
Hony. Deputy Secretary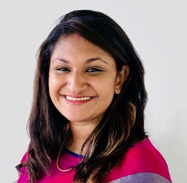 Ms. Manisha Charmain Rajanayake
( Hony. Deputy Secretary)
Manisha is the Sector Finance Controller of Dilmah Ceylon Tea Company PLC. Currently she handles group investments while looking into financial management and reporting.
She joined Dilmah as a Finance Business Partner in 2016 where she and her team were responsible for partnering with several divisions in order to provide strategic information to the top management. She is the first to perform a partnering role at Dilmah and her role has evolved over the years to provide key information to board through BI modules. She was a member of the core ERP team responsible for understanding the entire business requirement and successfully implementing the system. She was also a member of Dilmah Chairman's strategic core team responsible for looking into overall sustainability and wellbeing of the organization and advise the top management of the team's findings.
Currently she is a part of the MJF Group Investment Committee responsible for investment decisions at a group level.
Leaving Ladies' College in 2008, Manisha's work experience spans over 3 different industries where she started her career at Citibank and then went on to MAS Intimates before joining Dilmah Ceylon Tea Company PLC. She is an associate member of the Chartered Institute of Management Accountants – CIMA (UK) and a CFA Charter holder. While at Dilmah she received an executive development training at the Postgraduate Institute of Management (University of Sri Jayawardenepura).
During her school years she excelled academically and in sporting arenas. Whilst achieving best results for London advance level exams and winning several prizes she was also awarded colors for multiple sports namely netball, swimming and water polo. She was the first Sri Lankan Women's National Water Polo Captain and won the bronze medal at the 11th Asia Pacific Championships held in Hong Kong in 2009. She continued to balance her studies, career and sports by playing water polo for the Sri Lanka Navy water polo women's team and then represented Sri Lanka again as the vice-captain in 2013 at the Asia Cup tournament held in Singapore. She was also a part time lecturer at the Mercury Institute of Management from 2017-2019, lecturing for the Chartered Financial Analyst Exams where Mercury Institute was an approved prep provider.