Mrs. Manohari Abeyesekera
Committee Member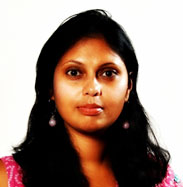 Manohari Abeyesekera
(Committee Member)
Manohari is the Head – Strategic Business Development of Hayleys PLC, and Director of Hayleys Group Services Ltd. She is responsible for the Hayleys Group's acquisitions into new business forays completing transactions exceeding US$200Mn.
An Alumnus of KPMG, Manohari is a Fellow of the Chartered Institute of Management Accountants -CIMA (UK) and a Fellow of The Institute of Chartered Accountants of Sri Lanka(ICASL).She read for MBA from the University of Colombo topping the batch winning three gold medals. Her first degree is in Biology (First Class Honours) from University of Colombo.
Elected to the CIMA SL Board in 2012,she was re-elected for a second term 2015-2017. She also served in the CIMA Regional MESANA Board during the year 2017.    Manohari served as the Chairperson of the CIMA SL Thought Leadership Committee 2013- 2014. In 2017 was the Chairperson of CIMA Sri Lanka's flagship event CIMA Business Leaders Summit.
A CIMA Prizewinner at CIMA Finals- Strategic Financial Management, Manohari was adjudged as the CIMA Young Star (Silver) at the maiden CIMA Janashakthi Pinnacle Awards.  She was featured in CIMA Insight UK magazine in Dec 2011 on "Breaking the glass ceiling in Sri Lanka."
Manohari has served as a Board Member of the International Chamber of Commerce (SL) over the last 5 years.
She is currently serving as the Vice President of the MBA Alumni Association- University of Colombo in 2015-2017.A Toastmaster, she was the Vice President- Public Relations in the inaugural Hayleys Toastmasters Club.
Manohari was recognized by Women in Management Sri Lanka as an Outstanding Career Woman in 2012. She also received an award at the World Women Leadership Congress held in Mumbai 2016 as an Outstanding Women Leader.
She had Executive Education at the Indian School of Business Hyderabad, and has attended workshops relating to finance in BHF Bank, Frankfurt -Germany and Asian Development Bank–Manila- Philippines.
Manohari was selected to represent Sri-Lanka in the prestigious International Visitor Leadership Program (IVLP) by the State Department, United States of America in September/October 2014.
In Aug 2015, Manohari was awarded the AOTS Scholarship from HIDA Japan to represent Sri Lanka in the flagship program Global Executive Program on Corporate Management.
Manohari is also a visiting lecturer at the University of Colombo Masters of Business Administration Degree program. A journalist, her articles on strategy has been featured in Daily FT /CIMA Edge/Chartered Accountant/ PIM etc. She has also been a speaker and panelist at numerous events.