Mr. Keerthi Gunawardane
Committee Member – Ex Officio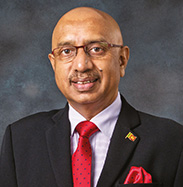 Mr. Keerthi Gunawardane
(Committee Member – Ex Officio)
Education:
Kingswood College, Kandy
St. Thomas's College, Gurutalawa
Central Collage, Welimada
Higher Education:
Sri Jayawardanepura University
Colombo University
Institute of Chartered Accountants of Sri Lanka
Family:    Married, Three daughters
Education Qualifications:      
Colombo University – Hypermedia Engineering
Colombo University – Multimedia Technology
Institute of Chartered Accountants of Sri Lanka – Post Graduate Diploma in Business and Financial Administration
Sri Jayawardanepura University – Economics Special (Hons) 1997-1981 Degree
Professional:
Founder member of the Institute of Certified Professional Managers (MCPM 00273)
Working Experience:   Sri Lanka State Trading (General) Company
Management Trainee
Toppan Moore (Colombo) Limited
Marketing Manager / Director Marketing
Graphic Systems (Pvt) Ltd.,
Graphic Systems International (Pvt) Ltd.
Chairman / Managing Director
Personal Awards and recognitions:
Federation of Chambers of Commerce and industry Sri Lanka
National Bronze award Winner of the SRI LANKA ENTERPRENEUR OF THE YEAR 1999
Provincial Merit Award winner – Western Province SRI LANKA ENTERPRENEUR OF THE YEAR 2001
Sri Jayawardanepura University:
Pradeepa Pranama – 2107 – Very special award from Sri Jayawardanepura University for a few selected graduates who has contributed to the National Development of Sri Lanka
Graphic Systems (Pvt) Ltd. (GS) was started in 1991. GS has managed to develop from a small printing company to a well reputed leading printing company. Today GS is the no 1 printing company for the NCR Business forms (sheet printing) in Sri Lanka. GS was able to win many awards for the high quality printing, including the National Productivity Award. GS was adjudged as the most productive company in the year 2001. They won this prestigious award from the year 1997 till 2001. They adjudged as the runner up in the year 1997. 1997- 2000 they won the merit award consecutively. In the year 2001 GS became the winner of Small and Medium industry category.
Graphic Systems has won awards locally for their quality printing work from Sri Lanka Association of Printers and in addition they were the winners of CNCI achiever of Industrial Excellence, National Business Excellence, Industrial Excellence Award and SLCBCC BUSINESS STAR AWARD over the years.
 Experience overseas:
Asian Productivity Association (APO) Study Programmes – Thailand, Korea, Taiwan, Japan
INGRIN – Netherlands – Printing and Packaging Industry Experience
Printing and Business Forms production experience in many overseas countries.
Positions Holding at Present:
President – Federation of Chambers of Commerce & Industry Sri Lanka
Director – Executive Committee Member – SAARC Chamber of Commerce & Industry
Chairman – Advisory Committee – Export Development Board on Trade Information and Promotion
Council Member – Sri Lanka Standards Institution
Board Member – Sri Lanka Accounting and Auditing Standards Monitoring Board
Trustee – Construction Guarantee Fund
Justice of Peace (All island)
 Positions Held
Chairman – International Chamber of Commerce (ICC)
Board Member – Sri Lanka Institute of Printing
Board Member – Ingrin Institute of Printing and Graphics
Chairman – SAARC IT Council
President – Sri Lanka Association of Printers
Chairman – FAGAT Forum of Graphic Art Technology