Mr. S. Renganathan
(Vice Chairman)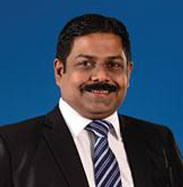 Mr. S. Renganathan
(Vice Chairman)
Sivakrishnarajah Renganathan who has served Commercial Bank throughout the entirety of his career for more than 37 years and has held several key positions in the Bank.
In July 2003, he led the Bank's acquisition of the Bangladesh operations of Credit Agricole Indosuez (CAI), Commercial Bank's first ever acquisition of a banking operation, and was appointed Country Manager – Bangladesh, in which capacity he led the Bangladesh team of staff over a five year tenure, building up the Bank's operations in Bangladesh. On his return to the country, he was appointed as the Bank's first Chief Risk Officer (CRO) and was responsible for preparing and implementing the Bank's Integrated Risk Management Policies.
In April 2011, he was appointed as the Deputy General Manager – Personal Banking Division, with overall responsibility to manage the Bank's entire branch network.
He was appointed as the Chief Operating Officer and an Executive Director of the Bank Board in July 2014.  Subsequently has been appointed to the pivotal role of Managing Director/ Chief Executive Officer of the Bank with effect from July 27, 2018.
He has served among others, as a Member of the General Council of the Institute of Bankers of Bangladesh, founder President of the Sri Lanka Bangladesh Chamber of Commerce and Industry, Executive member of the Foreign Investors Chamber of Commerce and Industry in Bangladesh and Executive Committee Member of International Chamber of Commerce Sri Lanka.
S Renganathan is a Fellow of the Chartered Institute of Management Accountants, UK (FCMA), Chartered Global Management Accountant (CGMA), Fellow of the London Institute of Banking & Finance, UK (FLIBF) and a Fellow of the Institute of Bankers Sri Lanka (FIB). He has received extensive Leadership, Management and Banking training in the USA, London, Japan, Thailand, Abu Dhabi, India and many other countries.