Mr. Shanil Fernando
Hony. Secretary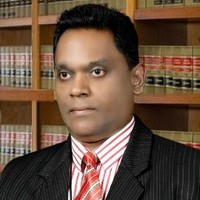 Mr. Shanil Fernando
(Hony. Secretary)
Anthony M Shanil Fernando obtained a first class Honours pass with a prize in Commercial Law, for his Attorney at Law final exam, at Sri Lanka Law College, where he started the first Law students, Human Rights Society.
Presently he is Managing Director WORLD EXPRESS CMB LTD, 33 year Old International Freight Forwarding, trucking and, a Gold Card, Custom House Agent, Handling Supply Chain Management services for Multinational companies in Sri Lanka, and is one of the bigger Container trucking fleet operators in Sri Lana. World Express Represents, the ASA Network, the FNC Network in Sri Lanka and is the sole agent for G4S Securicor handling Gold, Diamonds, Credit Cards and High Value Cargo transportation.
Shanil obtained a Master of Business Administration (MBA) degree, researched on "Electronic Data Interchange for Facilitation of International Trade & Multimodal Transport" Shanil is a registered Company Secretary and Trademark Agent, Commissioner of oaths, Notary Public and Seniors Partner, handling Commercial Law, and arbitration's, at Anton Fernando Associates, Law firm, advising local and foreign companies.
He is also a Managing Director of AFA Corporate Services Ltd, Corporate Secretaries, BPO, and management consultancy company advising foreign investors to obtains BOI approvals in Sri Lanka, and handles offshore company Incorporation through the network.
Shanil followed postgraduate courses, at the University of London on a Commonwealth Scholarship now called Chevning scholars, and at The University of Texas at Dallas, on Commercial Law and the University of Prince Edward Island Canada on Human Rights. He was also awarded the Association for Overseas Technical Scholarship to follow training in South Asian Corporate Management in Tokyo Japan. He has also Followed training in International Contracts and Arbitration in ICC Paris.
While studying in London he completed his Solicitors final exam. He is in the panel of Arbitrators at ICC Sri Lanka and Director, Colombo International Arbitration Center, and has obtained a diploma in Commercial Arbitration, and has obtained his membership form MSiArb, Singapore    from The Singapore Institute of Arbitrators.
Shanil was a member of the board of Urban Development Authority (UDA), and Paliyagoda Warehousing Co Ltd, formally under the Ministry of Urban Development,  presently  under the Ministry of defense, of the Government of Sri Lanka, and was a member of the steering committee. He was also a nominated member of the Investment committee of the Employees Trust Fund (ETF) of Sri Lanka.
Presently shanil is the Secretary, of The International Chamber of Commerce, ICC Sri Lanka Branch He founded the Legal and Social Development Foundation a NGO promoting consumer, environment protection, Human rights and Arbitration, E commerce & logistics management. Shanil was also involved in a NGO in taking Computer and English literacy to the grass root level program in Sri Lanka.
Anthony M Shanil Fernando was the President of the Postgraduate Institute of Management Professional Association Alumni of the Postgraduate Institute of Management of the University of Sri Jayawardanapura. He is the founder trustee of the PIM Professional Association Foundation and was the past Vice President of The Rotary Club of Colombo Metropolitan, and life member of the Bar Association of Sri Lanka, The Corporate lawyers Association and life member of The Organization of the Professionals Association of Sri Lanka. And exco member of Association of Container Transports Association (ACT), and Vice president Association of Clearing and Forwarding Agents (ACFA).
Shanil was a recipient of the Achieves Award by the Post Graduate Institute of Management Professional Association University of Sri Jayawardanapura. He was a visiting Lecturer in Organization and Human Resources Management, and Electronic Commerce & Supply Chain Management.  He is a certified trainer on Corporate Governance was trained by Commonwealth Association for Corporate Governance London. He is an old boy of St. Peters, and D.S. Senanayakka college and captained the school athletic team for three years which won the Tarbot shield thrice during his captaincy and was awarded athletic colors.