Mrs. Hajar Alafifi
(COUNCIL MEMBER)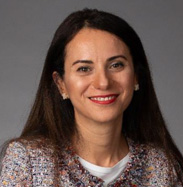 Mrs. Hajar Alafifi
(Council Member)
Mrs. Hajar Alafifi currently serves as the Chairperson & Managing Director of Unilever Sri Lanka. Hajar holds a B.Sc. with Special Honours in Business Administration and possesses 20 years of rich and diverse experience in Unilever, across different geographies such as Morocco, South Africa, Netherlands, and London, in the fields of market development, brand building, business strategy and execution. Prior to her current role, she served Unilever as the Global Brand Vice President and Global Strategy Director for various FMCG categories.
With a career spanning across developed and emerging economies, Hajar carries vast experience in serving consumer needs across the value pyramid and in collaborating with Private and Public sectors and the Civil society in promoting industry value creation, environmental sustainability, and social upliftment.
During her current tenure leading one of Sri Lanka's largest FMCG companies, Hajar is committed to helping the country's post-Covid economic revival, contributing to the business recovery of small & medium scale entrepreneurs, supporting the UN Sustainable Development Goals, and developing human capital. She is also passionate about female empowerment and the role of corporate policies in furthering diversity and inclusion.
Hajar is also a member of the LEAD network and Xynteo Alumni. In Sri Lanka, she represents the FMCG sector in several key business chambers as a Board Member of the International Chamber of Commerce, Chairman of the Consumer Goods Steering Committee and Committee Member of the Ceylon Chamber of Commerce, as well as a Committee Member of the Council for Business with Britain, collaborating with the Public and Private sectors in driving economic development through policy reform.