Mr. P. M. Abeyesekera
Committee Member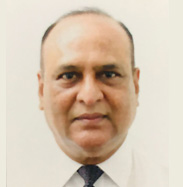 Mr. P. M. Abeyesekera
(Committee Member)
SPECIALIST IN INTERNATIONAL COMMODITY TRADING/ PROVIDING CONSULTATIVE SERVICES & BUSINESS DEVELOPMENT
A businessman, with an experience spanning a period of 44 years in international commodity trading. Joined Eswaran Brothers in 1979 and held the position as Director Imports (Foods) of Eswaran Brothers (Foods) Private Ltd till 1999. Served as the Trade Representative for Limako Suiker B.V., a leading Sugar exporting company based in The Netherlands, during the period from 2000-2007
During the period 2008-2014 was made the Country Manager for Energy Commerce BV, The Netherlands, which involved the management of Bonded Warehouse operation for Sugar in Sri Lanka.
From 2014 to date, was engaged in business activities in the capacity of an International Commodity Trader transacting business with many Principals and Trade Houses internationally for Sugar, Rice, Dairy products, Spices, Pulses, Grains and Cement.
Subsequently, commenced a venture as under the name and style of Vinu International Trading Company (Pvt) Ltd., and was appointed to the position of Managing Director /CEO.
In addition, engaged in offering consultative services for resolution of trade disputes besides functioning as:
1 President – Sugar Importers Association
2 Vice President – Benelux Business Council affiliated to Ceylon Chamber of Commerce
3 Consultant – Essential Food Commodities Importers and Traders Association
4 Executive Committee Member – International Chamber of Commerce Sri Lanka
5 Member – Sri Lanka Pakistan Business Council affiliated to the Ceylon Chamber of Commerce
6 Member – The European Chamber of Commerce of Sri Lanka
7 Member – Sri Lanka-Philippines Business Council
8 Member – Sri Lanka-China Business Co-operation Council and Sri Lanka-China Society