MR. SHEANATH DE SOYSA
Hony. Treasurer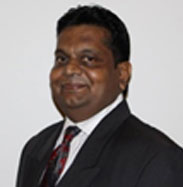 MR. SHEANATH DE SOYSA
(Hony. Treasurer)
Sheanath De Soysa is a people-oriented financial services professional skilled in developing performance-oriented teams. A highly motivated self-starter with a proven track record in Corporate Management, International Business Development and Operations with a global perspective and cross-cultural skills.
Sheanath has over 20 years of professional experience in Investment/Corporate Banking and Financial Leasing sectors in the USA and in Sri Lanka, with over three years of Professional Work Experience in the USA and seventeen years of experience in Sri Lanka which includes over 10 years in the Banking Sector.  He has extensive experience in International Banking, Finance and Investments, with International Business Development and Marketing Management experience in China, India, Dubai and Singapore including sourcing products, evaluating strategic partners and initiating Joint Ventures. He has Masters Degree in Business Administration (MBA) from American Graduate School of International Management (Thunderbird) Arizona, USA. and Bachelor of Science Degree in Business Administration (Finance) from Truman State University, Missouri, USA.
He served Taco Bell Corporation, Phoenix, Arizona, USA from 1994 to 1996 as an Associate General Manager and undertook profit & loss accountability for a business unit in Phoenix, Arizona with annual sales of over US $ 1.2 million.
He was elected Honorary Treasurer of the International Chamber of Commerce (ICC) Sri Lanka  in 2011 and holds this position to date while continuing his work as an independent  Financial Consultant from 2007 to date.
He joined Seylan Merchant Bank in 1997 as an Assistant General Manager and designed, formulated and implemented a comprehensive Marketing Plan for the Bank. In 1999 he was the Deputy General Manager and responsible for the leasing and term loan portfolios of the Bank and overlooked the marketing function. He became the Director / Deputy General Manager in 2001 and co-responsible for Strategic Planning of the Bank and overall responsibility for the functioning of the Leasing, Customer Care and Recovery portfolios. He represented the Bank in negotiating with regulatory authorities such as Central Bank, Stock Exchange and Board of Investment of Sri Lanka. He has proven ability to build consensus to resolve conflicts.
He worked as a Director / General Manager in Seylan Merchant Leasing PLC, from 2000 to 2007 with a  key part of the team tasked with incorporating Seylan Merchant Leasing PLC as the flagship leasing subsidiary of Seylan Merchant Bank PLC. He also functioned as the first Director/General Manager of the company with overall operational responsibility.
He has certification in leadership development for Company Directors(Singapore), hire purchase and lease financing, ISO 9001:2000, management strategies for success, operating leases and business management.