Mr. Tissa Jayaweera
(Committee Member – Ex Officio)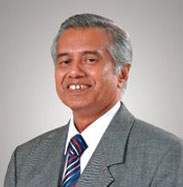 Mr. Tissa Jayaweera
(Committee Member – Ex Officio)
Tissa as popularly known, born Nov 1947, educated at Royal College Colombo, represented College in Athletics, Swimming and Gymnastics. National Diploma in Technology NDT, Bachelor Science BS, Master Science MS, Doctorate in Business PhD.
After an engineering carrier of six years in two reputed companies of Colombo, Tissa joined Ceylon Ceramics Corporation. Trained by Noritake, Japan in Ceramic Technology and Manufacture. Was seconded to establish Lanka Porcelain Ltd the Noritake / Ceylon Ceramics JV in Sri Lanka.
In 1983 Tissa proceeded to USA, was employed by Pepsi Cola and trained in Customer Care and Hospitality. Later joined General Motors and was trained in Sales & Marketing and achieved the Best Sales Person Award of General Motors for Southern California on two occasions.
In 1987 Tissa joined Interkiln Corporation of America to transfer Ceramic Manufacture Technology to factories operated by Interkiln in Peoples Republic of China.
On the invitation of the Government of Sri Lanka Tissa returned in 1989 and was nominated Director Ceylon Ceramics Corporation CCC. Fellow Directors appointed him Managing Director and elected him as Chairman, Board of Directors. From a loss making situation up to 1988 tables were turned with the support of staff, management restructured, production / quality improved to convert CCC to a profit making organization by end of 1989. Tissa was appointed Chairman / MD Lanka Porcelain (Pvt) Ltd by Noritake and Chairman / MD Lanka Wall Tiles Ltd, Lanka Tiles Ltd and Lanka Refractories Ltd by the Board of Directors becoming the first to be Chairman / MD of the group.
In 1990 CCC was restructured by Tissa as Lanka Ceramic Ltd LCL. LCL was listed in the Colombo Stock Exchange, issue oversubscribed. High cash flows generated by Lanka Wall Tiles Ltd (LWL), LWL bought up to 55% of Lanka Tiles Ltd hereto an associate of LWL with a share holding of only 18%. In 1992 Lanka Wall Tiles Ltd was restructured and renamed Lanka Walltile Ltd as a Public company
After discussions with Noritake lead by Tissa in 1991 Noritake agreed to increase capacity from 3200, 92 pcs sets per month of production to 6000 sets per month, purchase the additional production with a 20% increase in price and discount the purchase of Raw Material from Noritake by 10%. In 1993 Noritake introduced a new product line named Fine Casual China to the world from Sri Lanka with a further increase of production capacity to 10,000 sets per month making the Sri Lanka plant the largest overseas operation of Noritake. Lanka Walltile Ltd was listed in the CSE in 1993. After International Road Shows lead by Tissa LWL established a record for the highest over subscription for a listing being oversubscribed 26 times. Wall Tile production was doubled by LWL in 1995 with the commissioning of a new factory as Lanka Walltile Meepe (Pvt) Ltd. Floor Tile production was doubled by LTL with commissioning of a new factory Ceradec Ltd. Lanka Ceramic, Lanka Walltile and Lanka Tile were listed as Blue Chip by Colombo Stock Exchange. Lanka Ceramic Ltd picked by Asia Money as one of the ten best managed companies of Sri Lanka
securing placement 10 in 1993 and 7 in 94. Tissa has made many presentations overseas on behalf of investment to Sri Lanka. All companies managed by Tissa won many awards and accolades of Sri Lanka
Tissa was also the Director, Alternate Chairman / Advisor of Japan Asia Investment Company Ltd and under his advice and direction completed the first tallest building in Sri Lanka, JAIC Tower a 33 story fully serviced apartment complex and negotiated management contract with Hilton International. Tissa was also responsible for establishment of the first ICT company, ITMIN Ltd, a deal between Government of Sri Lanka / UNDP / UNIDO and the Private Sector. He was elected an Honorary Member of the American Biographical Society. Tissa has represented the country in many trade delegations inclusive of World Bank summits on behalf of Sri Lanka
Tissa relinquished all his positions in the Ceramic Group in 1998 leaving behind a fixed deposit of Rs 250 M in the group accounts and the door open to establish the largest Sanitary Ware factory and Tile factory of Asia as well as start Bone China Manufacture by Noritake, and a feasibility for the management to Establish a micro credit bank
Tissa and family migrated to USA in 1999. Was appointed Vice President Asia, by Interkiln Corporation of America to negotiate deals in Pakistan, India, Sri Lanka and Bangladesh. He established the largest tile factory under one roof Interbatch Porcelain Ltd in Sri Lanka. Restructured Prince Glass of Pakistan, Increased production capacity of Hindustan Ceramics India, modernized technology of Bengal Pottery Bangladesh
Tissa having held positions as Chairman / Managing Director Lanka Ceramic Ltd, Noritake Lanka Porcelain (Pvt) Ltd, Lanka Walltile Ltd, Lanka Walltile Meepe (Pvt) Ltd, Lanka Tiles Ltd, Ceradec (Pvt) Ltd, Lanka Refractories Ltd, ITMIN Ltd, Director / Alternate Chairman JAIC Lanka (Pvt) Ltd, Advisor Japan Asia Investment Company Ltd, President American Chamber of Commerce, Royal Commonwealth Society Sri Lanka Branch. Federation of Chambers of Commerce and Industry of Sri Lanka, Executive Committee Member SAARC Chamber of Commerce and Industry. Member Business Advisory Group UNESCAP, Advisor / Director – Lionvert Holdings PLC USA, Director – Banaras House Group India, EAP Hotels, IGMR Dubai, Chairman International Chamber of Commerce, Sri Lanka Accreditations Board, Member – Labour Advisory Council, Ministry of Labour
Now holds position as Chairman – Chelsea Enamels (Pvt) Ltd, Managing Partner – TJ Associates, Director – Lanka Startex Marketing (Pvt) Ltd, 2nd Vice President SAARC Chamber of Commerce and Industry
He has many UK and European accreditations to his name and has been awarded the fellowship of European Society of Cardiology recently for clinical excellence.
He has many scientific publications and has presented his interventional cardiology work in many World forums including the EuroPCR Congress in Paris, France and in Barcelona, Spain in 2012.
He has been a recipient of the International Gates-Cambridge Scholarship at the University of Cambridge, where he has completed his PhD, for outstanding academic merit.
He has also taught at the University of Cambridge MB/PhD programme.
He graduated from University of Peradeniya, Sri Lanka, with First Class Honours in every exam along with 11 Distinctions and 18 Awards/Prizes to his name during undergraduate career. He had entered and left the University, ranked in the highest categories.
He was a product of Dharmaraia College, Kandy. During his school years, he has won many prizes and accolades in both academic work and extra-curricular activities. He has had the honour of being a mastermind TV quiz champion (including Dulux Do you know Quiz) on many occasions and has represented Sri Lanka internationally (SAARC quiz) during his school years.
At present, he has the objective of developing the state-of-the art cardiac care, to be provided with the best of evidence based practice, for the benefit patients attending his care.